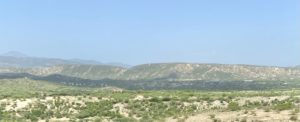 We are deeply grieved by the news that Haiti's president Jovenel Moïse was assassinated early morning July 7, and his wife, who was also shot, has been transported to the US for care. President Moïse was a husband, a father, and God's creation, and our prayers and sympathy go out to his family. Additionally, his assassination leaves the people of Haiti scared, confused, angry, and fearful of what may ensue. It is a time where prayer is of the utmost importance.
Many people in the US who have faithfully supported Hôpital L'Eglise de Dieu Réformée have questions relating to the situation in Haiti. I will attempt to answer anticipated questions below. I have attempted to corroborate the information below with reputable news sources, but even so, keep in mind that misreporting can occur. This is our best attempt to provide the current state of affairs at the hospital and in Haiti in general.
Is Hôpital L'Eglise de Dieu Réformée still open?
The hospital in Saintard, Haiti remains open, although all patients are being funneled through the emergency department. Few patients are coming to the hospital, as the community is fearful to leave their homes unless necessary.
Is the staff of Hôpital L'Eglise de Dieu Réformée safe?
The day of the assassination saw country-wide unrest, but as I write this today (July 8), the unrest seems to be mainly in Port au Prince and Petionville. The support staff living near the hospital is cautious, but things seem calm in that area currently. Many of our doctors live in Port au Prince and Petionville, and are sheltering in place. Our foreign staff (Fultons) are also safe.
Who is running the country now?
That is a bit more complicated than one might suspect. Normally, in this situation, the president of the supreme court would be acting president, but he recently passed from COVID (which, in Haiti, has seen a sharp increase in the past couple months). With no one currently in that position, the acting president is the prime minister. The prime minister recently stepped down, and the newly appointed prime minister has not yet been approved by parliament, so it is murky.
Who killed the president?
Investigations are currently underway, and there are many theories circulating. It seems confirmed that the assassins were mainly Spanish-speakers from other countries. It is also important to remember that as the investigation continues, additional information will be uncovered and what is believed to be fact now may be refuted or clarified.
Have the assassins been caught?
According to CNN, 4 suspects were killed and 2 detained as of Wednesday night.
Is the country under martial law?
Yes. In Haiti, there are 3 "states" for crises such as this: state of emergency, state of siege, and state of war. Acting prime minister Claude Joseph declared a state of siege for a period of 15 days. Under a state of siege, Haiti's national police force and military is in charge, and has increased latitude to search homes at will, prohibit gatherings, strengthen security, and take any measures necessary allowing the arrest of the assasins.
Is the airport open? Are borders open?
The borders are closed, and commercial flights are all canceled as I write this (July 8). It is unknown when the airport may reopen for commercial travel, and when borders may reopen.
What comes next?
A common phrase in Haiti is "Bondye konnen", God knows. We have no idea what may ensue, but we know our hope comes from the Lord. God is good. All the time.
How can I pray?
Pray for continued safety for the staff at the hospital, their families, and the people of Haiti
Pray for availability of necessary resources, such as food, water, fuel, medicine, for families and for the hospital
Pray for peace for Haiti, and that the resulting new government will be God-ordained
Thank you for praying with us as we move through this uncertain and troubling time.